How to Write a Literature Review
How to write a literature review paper format and outline; The best website to get help in lit review writing alongside the formatting guides, writing structure, and tips.
Literature review is any part, document, or segment of a paper that gathers critical sources and information on research topics and discusses those literature in relation to one another. Literature review is an essential specification in many fields, not just in literature. When we talk about "literature review," sometimes referred to as "the literature," we refer to research in a specific field.
Literature review is any part, document, or segment of a paper that gathers critical sources and information on research topics and discusses those literature in relation to one another. Literature review is an essential specification in many fields, not just in literature. When we talk about "literature review," sometimes referred to as "the literature," we refer to research in a specific field.
Literature Review Parts
The fundamental introduction-body-conclusion framework is always followed in most literature review. If the writer's literature review is a segment of a bigger paper, the introductory and conclusive parts may be as few as just some sentences, while the body receives the main attention. On the flipside, if your literature review is a single piece, the conclusion, introduction and other part can take up more space and allow you to elaborate on your goals, research methods, and findings aside from the main literature. Parts of a lit review include
Introduction
It's an introductory phase providing brief detail on the subject topic. It also defines the critical issues or texts to appear in the review. It sheds light on the description of sources and analyzes them for discussion and inclusion in the study.
Body/Theme
Please summarize all the source's key points and merge them into a coherent piece. Also, ensure that you examine and interpret as you discuss. You don't just paraphrase other publications; add your deduction and meaning to it where possible, while discussing the relevance of the findings in relation to the overall body of literature. Critically examine your sources as it's very important. Mention your sources' strengths and weak point. Discuss all the well-structured paragraphs to make subtle connections, comparisons, and contrasts, and use transition words alongside the subject-matter-oriented topic sentences.
Conclusion
Summarize and interpret all the significant findings from the research and dwell on their importance and relevance to study. Relate it to your primary research objective.
Lit Review Writing Guidelines and Formats
There are several situations necessitating the writing of a literature research, with varying expectations and disciplines, and all have key field-specific objectives for their diverse definition of a literature review and its uses. For example, authors may include more overt argumentation, deduction, inferences, and interpretation of source material in the humanities. In the sciences, writers and researchers tend to report study designs, methodology, and results; hence, these variation reflect the purposes, direction, and conventions in these disciplines. For literature reviews and any other genre, you should study examples from your specific and subject field, and speak with professors or experts in your expertise to ensure you know your discipline's conventions.
They can also be included in a scholarly article or research publication, typically following the introduction and right before the research methodology. In such cases, the lit review should only cover research relevant to the topic you are writing on. Occasionally, it will include critical sources that premised and themed your research methods.
Lit reviews can also be used as standalone publications, either as class works or publications. They may also be assigned in a class to assist students become acquainted with a subject topic and scholarly publication, gain an understanding of the other researchers write-ups on the topic of interest, identify existing research gaps to propose new projects topics, and develop a central theoretical framework, viewpoint, and methodology for future research. A lit review, as a publication, is typically intended to make the lives of other scholars, scientists, and researchers easier by synthesizing, collecting, summarizing, and analyzing existing research on the subject topic. This is especially useful for scholars entering a new research field or guiding a large community of researchers toward unanswered questions.
How to Organize and Structure a Literature Review
Depending on what you hope to get with the review, lit reviews can take varying and diverse organizational forms. Here are a couple of examples:
Chronological
The most basic approach is to find the evolution of the topic from about a long time, which makes the audience become acquainted with the case. Do ensure that you avoid summarizing and listing sources in chronological order if you use this strategy. Try to analyze the patterns, turning point, and critical debates that have shaped or marred the field's direction. Provide your inferences, interpretation, and findings of why and how certain developments or results occurred (If this is not applicable in your discipline; consult a teacher).
Suppose you have discovered some recurrent salient themes that you can work with on your paper. In that case, you can arrange and organize your review into subsections that will address different areas of the topic. Peradventures, if you happen to be reviewing the literature on women and religion, for example, main themes could be the role of women in churches or religious attitudes toward women.
Methodological
You can also compare the results and conclusions arising from varying approaches if you happen to draw your sources from other fields that use various research methodology. Examples include:
Comparing qualitative and quantitative research

Theoretical versus empirical scholarship

Separate the research into historical, sociological, and cultural sources.
Theoretical
The literature review serves as the theoretical framework in many humanities articles. It can discusses and elaborate on various theories, models, and key concept definitions. Of course, you can argue about the importance of a particular theoretical approach or combine different theoretical key concepts to create a perfect framework for your research.
The Strategies, Outlines, or Tips for Writing a Literature Review
Any literature review is only as good as its topic. Always ensure that your sources are carefully chosen and that your research is in-depth and thorough. If you come across a new thread while writing, don't be afraid to engage in more research. More information on the research process can always be found in online resources or repositories.
Make an annotated bibliography as you conduct your research. Information in an annotated bibliography can also be used in any literature review, so you'll develop your bigger picture conversation going on among other professionals, scholars, and other stakeholders in your subject topic as you research.
Rather than simply summarizing research or the lit review, you will usually need to synthesize it. This entails connecting sources to represent the scholarly study on the pre-existing subject topic. Many student writers often struggle to understand this because they believe they have nothing to add to what the scholars cited but here we educating you on tips and strategies to aid you.
It is often helpful to understand that the purpose of these syntheses is to demonstrate to you're the audience your research proficiency and encourage them to read all the paper. According to writing experts, synthesis is like throwing a dinner party. Imagine having your sources in a single room, discussing and digesting your topic. What do they say to one another? Examine all the paragraph. Are you citing only one source per paragraph? This usually means only a summary. When multiple references are mentioned in each paragraph, you are likely to synthesize them frequently.
The most exciting literature reviews are frequently written as arguments. The literature review section is where you get to establish that your research fills a specific gap, meets a need, or is relevant in one particular way. You have the opportunity to do this in the article's introduction. Still, the literature review section provides a more ample opportunity to establish the storyline in the direction you want your audience to see it. You can still choose the intellectual stance you want to depict and whose outlook are most important to your school of thought. Addressing these key points allows you to argue and debate for your place in the lit review, making it more compelling than simply reporting on and paraphrasing other sources.
How to Source for Literatures
Create your source selection criteria.

Search related library database using keywords.

Review recent articles and reviewing reference lists can lead to additional valuable papers.

Include key studies that contradict your position.

Consider the general viewpoint known in the field of study. Consider personal interests and the unbiased interests of other researchers in the field.

Talk to experts or professor. Brainstorm, read lecture notes, and latest issues of field-related periodicals.

Limit your research scope to that single subject topic.

Read and evaluate related articles.

Analyze and synthesize all the findings.
How to Examine your Work
Examine all paragraph's key sentences. If you could only read these sentences, would you reach a conclusion that your publication presented a clear, logically developed standpoint all through the paper? Ensure that each paragraph's topic sentences should summarize the key points of your research. Create a bold outline for every segment of the paper and clarify whether you need to include some information, exclude irrelevant details, or restructure them.
Try to read aloud your work. With that, you'll know where you might need punctuation marks to indicate divisions or pauses, where you've made mistakes, or where your sentences are ambiguous. Its also good to check to ensure that you have covered all pertinent, up-to-date, and relevant texts. The literature review aims to showcase that the author is well-acquainted with the essential professional literature on the subject area. It is critical in the sciences and some social sciences to use recent literature; though this is less important in the humanities.
Check and ensure that all references and citations are correctly suitable for your discipline. You can consult your professor if you are unsure of the required citation style. More also, check to ensure that you are not guilty of plagiarism by failing to correctly cite a source or use words directly without citation. It's also best texts are written in a concise and clear academic style not descriptive like everyday language. Sentences should be logical and flow smoothly.
The Value of a Literature Review
A thorough, repeatable, and transparent literature search is essential for conducting a literature review. The literature is evaluated critically using the appropriate critiquing framework for the study designs. A critical appraisal is required to determine the chosen studies' relevance, validity, and reliability. The lit review outline also discusses the review's ethical considerations. The literature review allows you to:
Showcase your knowledge of the subject topic and its scholarly context.

Create some theoretical framework, designs, and research methodology.

Place your research in congruency with the work of other reputed researchers.

Demonstrate how the research meets a need, fills a gap, or contributes to a debate.

Examine the present state of research and demonstrate your understanding of scholarly debates on your topic.
Aims of Conducting a Literature Review
The second chapter of your thesis is usually devoted to a literature review. It serves several functions but primarily demonstrates knowledge of the research topic. It establishes what is known, unknown, and disputed about the specific case. It intends to:
Clarify your knowledge of the research topic.

Recognize literary trends and themes.

Determine research gaps.

Justify your investigation.

Increase your understanding of the subject.

Give your intellectual work context.

Locate subject matter experts.
When writing any thesis, publication, dissertation, or research paper, you will almost certainly be required to write a literature review to suit your research study within existing knowledge. Writing a literature review is time-consuming and laborious. Writing a systematic literature review or a literature review as part of your thesis requires significant effort. They entail a thorough search of the literature and an in-depth examination of the studies or publications. A literature search for literature review articles can take several days. But why struggle when you have qualified experts at your disposal?
Where Can You Get a Literature Review Written from an Academic Expert?
The best way to find a literature review writer who can help you with any lit review paper of any complexity is through a professional writing agency. Literature review writers at these agencies have years of experience in writing a literature review, and they know how to structure and outline any literature review of any kind. A reputable agency that renders such service is EssayBrother.
Having our experts complete your literature review paper can be enlightening. They are familiar with the format and organization of literature reviews due to their extensive experience. They are familiar with the best databases for obtaining current and subject-specific literature. You can learn a lot from them and improve your research skills.
Quality Literature Reviews from the Best Known Literature Review Website
EssayBrother is a leading literature review and academic writing service agency that has helped hundreds of thousands of high school, college, and university students in Australia, the US, the UK, and abroad. EssayBrother believes that a company is only as good as its employees. Our literature review writers have undergone rigorous testing to demonstrate their abilities. They are accomplished academics with a wide range of qualifications and extensive academic writing experience. They are motivated by a desire to conduct research. Their knowledge and expertise make them the best literature review writers for your paper.
What puts them ahead of the competition is that they deliver the most high-quality literature review writing services available at affordable prices for everyone. Essaybrother literature review writers not only correct your work but also improve your writing by removing ambiguous language, repetitive wordings, and awkward phrasing. They believe in providing affordability with quality, so you don't need to worry about our services not being up to your standards or the price of essays being too low. Need a literature review written? We're here to help! Get a professional-quality literature paper you can trust with just a few clicks.

Article was written by Joy G
Hi, I'm Joy I have been working as a freelance writer for several years, specializing in medical sciences. Thanks to my exemplary writing skills, my clients have received outstanding ratings. As a writer, I'm detail-oriented and very organized. I am fond of research and passionately love to write. I have a bachelor's degree in Nursing and Public Health, which makes me the most qualified to work with your healthcare research paper. For many years I have been writing high-quality dissertations, literature reviews, essays and research papers in the field of medical sciences. I also have extensive experience writing essays on English language and literature, music and cinema, social sciences and philology. I am open to challenges that will help me develop my writing skills. Contact me today to get quality documents.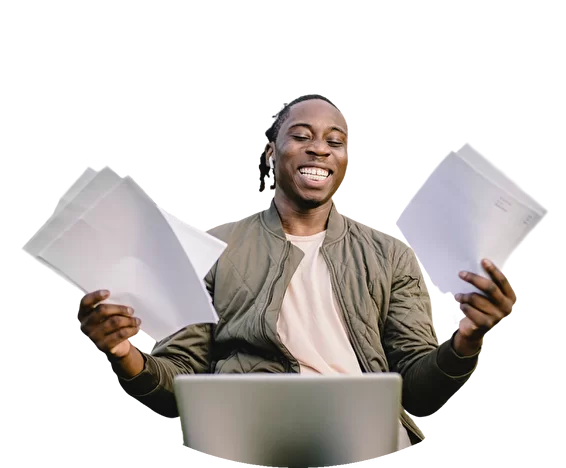 I've Got the Lit Review
In Just 3 Hours!