Personal Statement Editing & Proofreading Service
Be patient and careful while editing your personal statement. Or let professionals edit your work for you.
No Plagiarism Guarantee

with Turnitin Report
100% Original & Custom

Always In-depth research
Don't Miss Deadlines

or You Get a Full Refund
Money-Back Guaranty

if you are not satisfied
Personal Statement Editors
Personal statements are special essays that cause you to think deeply and find new parts of yourself. After you've spent a lot of hours and energy writing an essay, you'll need to cap it all off with expert help from our team of personal statement checkers.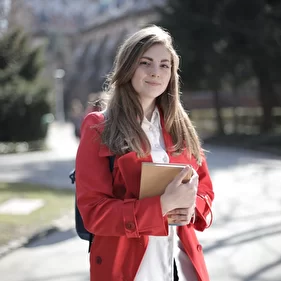 Personal Statement Help Service Features

Your details are kept safe. No one else can see your information or the content we send to you. We assure you that your communication between our editor and customer support is confidential and exclusive.

We offer the best editing services for your personal statement based on all the criteria you give us in your order. The editor will change what needs to be changed without removing your unique writing voice. This way, your work remains your work. Our editors will only maximize the excellent work you have put in.

Only editors who have been trained can offer high-quality editing services for personal statements. Our editors will improve your paper's style and quality. We do this by assigning your work to an editor that is experienced in that field. We'll connect you with an expert editor as quickly as possible.

Only editors who have been trained can offer high-quality editing services for personal statements. Our editors will improve your paper's style and quality. We do this by assigning your work to an editor that is experienced in that field. We'll connect you with an expert editor as quickly as possible.

We offer low prices for editing your personal statement. New customers get at least a 10% discount. Our existing customers are not left out as we also offer promo codes and discounts to all customers on all our social media platforms.

If you are not happy with your work, or it was delivered past the due date. We assure our customers of a money-back guarantee on all orders. However, we also guarantee that we won't disappoint you. When you place an order and an expert is available to do the work, they will handle the order professionally.
The Personal Statement Editing Process
The personal statement editing process is a lot easier than you think. Remember that choosing EssayBrother is the best decision your personal statement needs to stand out. That said, here's how it goes.
Understand that Your Personal Statement needs an Editing
Then head to the EssayBrother website and place an order for a personal statement edit. This is a necessary step in securing that application.
Calculate the order price
Navigate to the 'Calculate the price' button and claim your 10% discount. Then calculate the price by choosing your academic level and other requirements.
Now it's time to fill in your order form. Ensure you include important instructions like deadlines, how many pages you need, and other details.
When you submit (your order) and make payment for the order, your editor will deliver your paper. If you initially made a deposit, you would have to complete the payment to receive your paper.
Your perfect personal statement is good to go. If you're satisfied with your order (which you definitely will be), you should leave a review on our page.
Other Papers We can Edit
College Essay Editing Service
Coursework Editing Service
Homework Editing Services
Thesis Paper Editing Service
Term Paper Editing Service
Speech Text Editing Services
Literature Review Editing Service
Lab Report Editing Service
Case Study Editing Service
Scholarship Essay Editing Service
Admission Essay Editing Service
We also offer editing services for specific essay subjects. If you have any academic paperwork in any of these subjects, our experts can help you edit and proofread your essays. Here are some of these essay subjects:
Business Administration and Management
Politics and Political Science
Marketing and Human Resources
Geology and Earth Science
What Do People Say About our Services
Professional Personal Statement Editing Services By Expert Editors
To write an impressive essay, you have to use good writing tips, check your paper carefully, and know what the admissions staff wants to see.
So, you don't have to worry if you're having trouble with your essay. We have the perfect answer. You will get a final polished essay from our personal statement editing services. Here are some of the things our editors will help you with.
What Our Editors Will Do For You
At EssayBrother, our team of experts assists all students in crafting the best personal statement. With their knowledge and experience, these editors can help you edit, format, and even clarify your sentence structures. Here are some of the ways the editors at EssayBrother can help you with your personal statement:
Editing
Our editors will review your work for grammar and punctuation mistakes. They would also change your style and method of delivery to make it more emphatic and more appropriate for your university of choice. They will also ensure it is tailored to the field you are applying for.
Formatting
After editing and reviewing, the editor will review your work to ensure it is visually presentable. At this point, your personal statement editor will look for mistakes in formatting and the wrong way to present your work.
Proofreading
Our editors will read it from a professional point of view. A personal statement must be moving and passionate enough to get you into the program of your choice. So, our experts will proofread your essay to achieve the required result for your readers. This is the final stage of the editing process, and it may not take as much time as the others.
Quick Personal Statement Editing and Proofreading
When you hire personal statement editors from EssayBrother, you can count on getting your work back on time. We know it is essential to get applications in before the deadline, so our editing team is ready to go above and beyond to meet your needs.
An impressive personal statement greatly increases your chances of getting into your chosen university. It's also your only chance to show how special you are and why the university should choose you. Please make the most of it by writing a good essay about yourself that is also free of mistakes.
We will edit and proofread your personal statement as quickly as possible so that you get your personal essay in its best form. If you need editing help, quickly contact us on our website or any of our social media handles.
Why Do You Need To Hire Professional Editing Help For Your Personal Statement?
You may not always be able to look through your statement essay and check for errors or other missing things. This is because you may be busy with work or just too tired to properly analyze your essay. Here's why you should use professional editing help:
A new set of eyes
Personal statements are often very critical papers that need deep thinking, honesty, and passion. So, you may be burned out after so much work and effort. This is why it's a good idea to have a professional editor review your work and give you feedback.
Stress and Tight Schedules
Daily activities such as school work, family, friends, and your job can leave you feeling very fagged out and confused. Under such pressure, it would be counterproductive to edit such an important piece of writing on your own. It would be wise to allow a professional editing service to handle the task.
Skill set requirements
It's not easy to edit a personal statement. Even if you choose to recruit a friend or family member to help you edit, you should remember that they need to be qualified to do it well.
Word processors or other writing software are not enough to check for spelling and grammar mistakes. The editor must have an advanced English skill set. Some of such skills include:
Writing skills. The most important parts of good writing are sentence structure, tone, voice, style clarity, transitions, word choice, and syntax.
Strong native English skills – Written English differs from spoken or everyday English. It includes everything about writing, like grammar, punctuation, spelling, and capitalization.
All of these things are needed for you to be able to explain your deepest thoughts clearly. EssayBrother's personal statement editing services will help you turn your essay into a finished paper, ready for submission.
Our experts make sure that when you buy a paper, you get one with a clear style and good sentence structure on time. We pay a lot of attention to getting projects done as quickly as possible.
Writing is incomplete without proper editing, and writing is also much easier when you choose EssayBrother as your professional editing service. We aim to deliver the best papers you could wish for, and our team of experts can't wait to help with what you need.
FAQ about Personal Statement Editing Services