How To Write A Scholarship Essay That Will Win You The Prize
Scholarship essays can be incredibly challenging to write. However, with the right guidance, they can be a breeze! In this blog, we'll provide you with tips on how to write a scholarship essay that will make you stand out from the competition. We'll also provide you with an outline and format to follow so that you can structure your essay in the most effective way possible. With our help, you're sure to ace your scholarship application
Are you excited with the idea of your whole college tuition fee and expenses covered? Is your scholarship application process lagging because of a Scholarship essay? Or, are you struggling with How to write your scholarship essay? Well, worry not folks! We've got you covered!
When it comes to college, the expenses can seem endless. From tuition to room and board, the cost of a degree can quickly add up. This is particularly true for students who are not residents of the state or country in which their school is located. In an effort to alleviate some of this financial burden, many colleges and universities offer scholarships. These awards can come from a variety of sources, including individual donors, corporations, or the institution itself.
There are many scholarships out there for students who need financial help to pay for college. Many of these scholarships have high stakes, with the winner being awarded thousands of dollars towards their education.
If you're applying for a scholarship, chances are you are going to need to write an essay. Very few scholarship programs are based solely on an application form or transcript. It might seem overwhelming to come up with a winning essay when you've got so much on the line, but it's worth putting in the effort. I've been there myself!
Steps to write a Scholarship Essay
The essay is often the most important part of your application; it gives the scholarship committee a sense of who you are and your dedication to your goals. You'll want to make sure that your scholarship essay is the best it can possibly be. Follow my steps below and you'll be on your way to writing a scholarship essay that will increase your chances of getting some sweet money for school.
Use a scholarship essay outline. Writing an essay can be hard, but it doesn't have to be! Here's an example of what one might look like
Introduction Paragraph
Tell them who you are and your major (if it matches the criteria). They will want proof that you are qualified with evidence such as grades and test scores, so include that here too! The introduction should clearly state your goal and how you'll achieve it. It should give a short overview of the topic and state your goal. You should also explain how you will achieve that goal, in relation to the scholarship's criteria. The best way to do this is with a thesis statement—a one-sentence summary of your argument or main idea.
Start with an introductory sentence that will lead into why you are writing about this topic and what information you want to share with readers. For example: "My passion for exploration has been lifelong," or "As someone who is interested in conservation."
Body Paragraph One
In this paragraph, tell them why they should pick YOU over all the other applicants. Be specific about how their scholarship would help change your life in some way or improve it. Next, offer evidence supporting one or more points made previously in the essay (see below). You may want to break down each point into several smaller sub points within each body paragraph if they are particularly complex or numerous – but keep it short! Your goal is not only to make sure that everything makes sense but also that there's enough time left over for us to write our own scholarship essays!
Body Paragraph Two
Now say something about how important school is for your future career plans or other personal goals that require higher education funding. Body paragraphs with specific details (and evidence of your research) to back up your statements
The body paragraphs of your essay should provide evidence in support of the points that you've stated in the introduction and conclusion. Each body paragraph should be 3-4 sentences long; it should also be sequenced, relevant to the topic and written in a narrative style.
Conclusion Paragraph
Make sure this conclusion includes something unique about yourself (for example why did YOU decide on becoming an engineer instead of something else like becoming a doctor?) Use a bulleted list, mind map or template to plan your essay. If you feel like you're stuck or not sure of what to write about, try one of these methods because it will help you with the scholarship essay format and make sure that each paragraph supports your thesis statement (topic).
Conclusion that recaps the goals you stated in your introduction and shows the reader you've achieved them. Your conclusion should be a summary of the main points of your essay. It should also summarize what you believe to be true about the topic and how it impacts others. It's important that this section is brief and doesn't include new information.
You'll want to restate your thesis in one sentence, so that readers can clearly see how this essay fits into the body of work as a whole. Make sure that you have a clear scholarship essay structure on each paragraph for the entire essay. This includes:
A clear topic sentence (thesis) which clearly states what position you are taking on your topic;

Supportive sentences which provide evidence for this position; and

A concluding sentence that summarizes the points made in the body paragraphs and restates/confirms your position on this topic (thesis).
2. Make it Personal
When you write a scholarship essay, make sure to show how you are unique and how you will make a difference in the world.
Tell a story about an experience that has made you who you are today.

Use your own voice, don't try to sound formal or overly professional—write like yourself!

Refer back to the scholarship prompt for inspiration on what they're looking for.
3. Show How You're Unique
Citation style is one of the most important aspects of academic writing. Plagiarism is an offense punishable by law. And, as a student, you must use a citation format of your choice to credit your sources. The major citation styles are:
MLA(Modern Language Association) Format:

This is one of the most popular forms used to credit sources. Currently, in its 9

th

edition, it is most commonly used in the liberal arts and humanities.

Here are some useful guidelines on the MLA style
APA(American Psychological Association) Format: Commonly used in the social sciences, it requires a little different information from the MLA format. There are unique techniques to use when referencing a book, journal, or online article. Here is a useful guideline to use for your references in APA format
4. Use Specific Examples
When you are creating your list of strengths, weaknesses, leadership skills, volunteer work, achievements and hobbies; don't just say "I am a hard worker" or "I love learning". Give examples. For example: I was in charge of organizing the group project at my internship last summer. We had to come up with a new social media campaign for our company and it took us 6 months to complete but we were able to successfully launch the new hashtag on our Instagram account! Another example would be saying how much you enjoy cooking. If so then mention some favorite recipes that you like making and why they mean so much to you (maybe they were taught by your parents). Lastly another example would be if one of your hobbies is playing video games then talk about what kind of video game consoles you own or which ones are currently trending on youtube/twitch right now etc.
5. Write an Impressive Conclusion
Now that you've written your essay, it's time to put the final touches on it. Here are some tips for creating an impressive conclusion:
Summarize your essay by restating your thesis. The last thing you want to do is repeat what you said in the introduction, so don't just start listing your accomplishments again or telling us how great of a person you are. Instead, use this space as a way of highlighting why specifically this scholarship was right for you and why it will help meet your goals.
End strong! Make sure that when people read through all other essays and then get to yours, they can't help but be impressed (and maybe even jealous). This is especially important if there are only two or three spots left open at the end—they don't want anyone else passing up on an opportunity because yours was too good!
Scholarship Essay Take Away
Scholarship essays are a great opportunity to make some money for college. Build an outline, start early, follow instructions. Don't be afraid to ask questions. When you sign up for a scholarship, the committee that awards it will provide you with an essay prompt. The prompt may be as simple as "Describe your career goals" or it may be more specific, like "Tell us about your experience with bullying and how it has shaped who you have become." Either way, it's important to understand exactly what is expected of you before beginning the writing process.
The best way to write a scholarship essay is to start by researching the organization or program you want to apply to. Each scholarship has different requirements, so it's important that your essay matches what the award committee is looking for. Once you have a good understanding of the criteria, you can start brainstorming ideas for topics. A great way to come up with topics is to think about your hobbies, interests, and experiences that have made an impact on your life. Be sure to highlight why you are unique and what
Scholarship essay services can be a great way to get help with your essay. EssayBrother is one such service that can help you write an essay that will make you stand out from the competition. Need your essay written in no time? Send us your topic now and download your paper in the next few hours. Don't wait until the last minute! There are so many reasons why this is true:
You'll spend less time agonizing over every word once you discover that everything works out in advance and all of the pieces fit together perfectly (and they will) if only they were given enough time to do so.

You'll be able to find all of those little details that bring depth and color into each paragraph instead of trying in vain to save them from irrelevance after realizing halfway through writing your paper that there weren't enough examples provided by which one could craft an effective argument based on facts rather than opinions (which are much more fun but rarely considered acceptable substitutes for fact when applying for scholarships).
Ultimately, the scholarship essay is a way to prove yourself as someone who is worth giving a scholarship to. It's your chance to show them that you're a good fit for what they need and that you take your education seriously.
Carefully following all the steps will give you a quality piece of writing that demonstrates your passion and ability. And above all else, stick to the format and keep it simple. After all, when you're in college or university, you'll be expected to do much more challenging writing than this.
This article provides tips for writing a scholarship essay. If you are struggling to write your essay, or would like help getting started, check out EssayBrother. They offer affordable, quality scholarship essay writing services that can help you get the scholarship you deserve.

Article was written by Taufiq Hasan A
Hi, I'm Hasan! Academic papers are a different breed of essays and to master them requires heavy skill. Being a person with this skill in writing journal papers, I will help you format your research paper by proofreading and editing the writing style and citation format. If required, you can also ask for improving the content of your paper. Additionally, if you feel you need help with writing a report submission or struggling to finish that one article with a hard deadline, I am just one click away! My experience in academia will surely come in handy for you.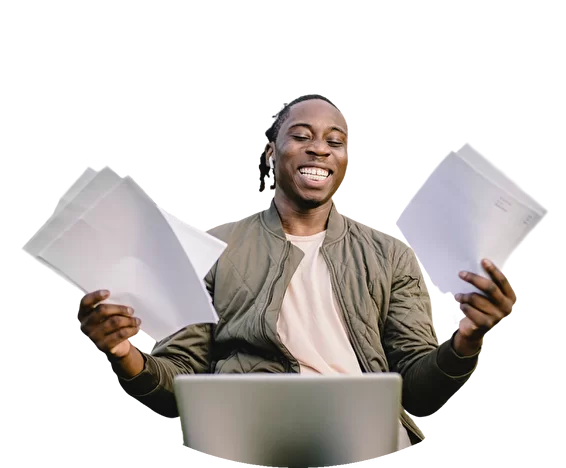 I've Got the Scholarship Essay
In Just 3 Hours!