How to Write a Dissertation Proposal
Before you write a dissertation, you may be required to write a proposal by your supervisor. If you are seeking admission or a scholarship for a university program, you may also, be asked to write a dissertation proposal. So, writing a proposal cannot be escaped, as you will likely encounter it at one point in your academic program or pursuit. You can't run away from it. So brace up and learn how to write a good proposal for a dissertation in this essay. It's important to know that a dissertation proposal just like every other proposal is usually systematically structured. The main difference it has from other proposals is that it's academic writing and as such follows a different pattern. Your dissertation proposal template will help in explaining What your research is about, How you want your research to be, and the way you will write the research. Are you in the final stage of your academic program and need a guide on how to write a dissertation proposal to earn a good grade, or improve your research skill? Do you need help in writing your dissertation? Our cheap dissertation writing service will take care of this need. All you have to do is to choose a topic, send us your requirements and get your original paper on time.
How to Write a Dissertation Proposal Flawlessly
A dissertation proposal is an empirical and experimental academic research written by Postgraduate Students in colleges and universities. This type of paper is both informative and experimental. People write essays for many purposes but what makes a dissertation proposal essay stand out is the fact that it's geared at solving an identified problem. There must be a problem you have identified and seek to proffer solutions to. It could be economic, political, social, health, educational, or cultural issues you have identified or observed in your environment that have posed either a negative or positive effect. It is usually written to determine the relationship, differences, influence, and effect of independent variables over dependent variables in research work.
In writing a dissertation proposal, you should do the following:
Choose a good researchable topic

; be sure to choose a topic that has an independent and dependent variable. It must be a problem-oriented topic. Make it brief and concise. If you choose a topic that is not researchable, you will find it difficult to carry out an analysis on the topic because it is not research-based.

Research thoroughly on the topic

and note key points that would be vital for your research. Adequate research will give you more insight into the topic, and it will help enrich your research work. This will make your research unique and original.

Draft an outline

to guide the research. Before you begin writing a dissertation proposal, draft an outline that will guide you in writing the research. This will help you to avoid writing out of your scope.

A dissertation proposal outline

will help you stay coordinated and provide a good linkage to your essay. Writing out an outline will help organize your proposal
A critical analysis essay should generally include:
An Introduction

: This is where you introduce your topic, with a short meta description of the subject, overview, the problem statement, the purpose or objective of the essay, hypotheses/research questions as the case may be, significance, and the scope of the research. This is what your introduction should carry. This part will guide the pattern of the other parts of the essay.

A Literature Review

: based on the research objectives and hypotheses you will define concepts used in the work and review other writers and scholars' work related to your research. This part of the research appears to be the body of the work which reviews the current state of related knowledge. Express yourself here, and raise subheadings and points here. Do not include personal opinions and emotions or your own words rather it should be evidence-based and written in clear terms and with paragraph linkages. You should be able to capture the minds of the readers to be motivated to keep reading the research till the end. A summary of the literature review should be done at the end of this part and show the implications of these reviews to the current research.

Methodology:

In

Writing a proposal for dissertation

, the methodology section requires a discussion of the methods used in carrying out the research. In critical analysis essay writing, you should highlight the area of your research, the population of the study, sample and sampling technique used, data instrumentation, and the tools you have deployed to analyze the data. The proposal dissertation methodology writing requires a well systematic and structured

thesis proposal format.

Research Implications:

let your readers know the relationship between the result of your research analysis and its implication for your research. Let your readers know the relationship between your findings and that of others who carried out similar or related research. You should be able to discuss your findings in clear and concise terms for your audience to easily comprehend.

Conclusion:

Tell your audience what you did in the research, give a summary of the whole research you investigated, and finally base your conclusion based on your findings. Do not omit the recommendation part as it is vital to give recommendations and suggestions to the research problem based on your findings.

References or Bibliography

: Many writers fail to give good references to their research. You are expected here to write out all your sources of your work while researching and writing instead of beginning to find references to your sources when you are about to conclude the research. Make sure all sources cited in the work must be indicated in the bibliography or reference.
But also if you have difficulties with dissertation proposal you can use dissertation proposal help services.
What is a Dissertation Proposal?
A dissertation proposal is simply an academic paper that summarizes a dissertation. The same definition applies to a thesis proposal. It can also be referred to as a short piece of writing which gives your readers more information regarding your main dissertation. Your supervisor may need this writing to see what you intend to do in your research project.
A dissertation proposal is an advanced academic writing that summarizes your whole thesis in a few pages. It discusses and outlines to your readers the overview, background, problem objectives, scope, significance, methodology, and references of your dissertation. It involves a standardized, specialized, and organized academic format. You cannot write a dissertation without a proposal, and you can't apply for post-graduate admissions or scholarships for degree programs and not be asked to write an academic proposal.
Dissertation Proposal Template
The templates of dissertation proposals may differ in terms of organization or arrangements of subheadings, but they must all have a general way of presentation. The following are the main contents of a dissertation proposal.
An Abstract

: Every proposal must have an abstract section that summarizes in a few sentences what the thesis is all about.

The introduction

discusses the overview, the relationship between variables, and the scope of the research.

Statement of the problem

: what problem does your research seek to proffer solutions to? And why you are carrying out the research.

Purpose of the study and scope:

what does your research goals and aim? You have to break this down.

Research hypotheses/ research questions

(as the case may be): Based on the purpose of the study, you should be able to raise questions or formulate research hypotheses to guide the study.

Research significance

: Of what significance will your dissertation be to you and others?

Literature Review

: This section reviews concepts, opinions, and assertions of other research works related to yours. Some people incorporate theoretical framework, conceptual framework, and empirical framework in this section of their research work.

Research Methodology

: This part shows the research design, the area of study, population, sampling and sampling technique, data instrumentation and administration, and data analysis.

Conclusion:

Discussions of the findings of the research and a summary of the entire research is what this segment does.

References/ bibliography

: Sources cited in the dissertation from Books, journals, interviews, and so on are properly referenced here.
Dissertation Proposal Examples/Samples
There are very many dissertation proposal samples and examples you can always get. You can find them in your institution's library or resource centers and can also find a variety of them from dissertation help online. We will provide you with examples to guide you and will also help you write your dissertation proposal as well. You can get Thesis proposal formats and examples, Master's degree proposal examples, and bachelor's degree proposal examples from any disciples or course of study. Samples of proposals may differ based on the number of pages and formats peculiar to the field of study and departments. Let's discuss a general dissertation proposal example
If you are writing a proposal on "demographic variables and attitude toward online gambling among adolescents" in your locality. First, you have to research thoroughly online gambling, how adolescents get engaged in it, and when they play it. Learning how to write a proposal for a dissertation is easy if you can draft an outline or template to guide your research.
An

Abstract

: this forms your meta description. It's usually written at the beginning of your thesis proposal. One could read your abstract and have a clue of all you have written in your proposal and thesis but not in a detailed form. Therefore, an abstract is a piece of summary of a dissertation or any academic essay. It's more like a summary of your whole work but in a few sentences.

Write an

introduction

– tell your readers what online gambling is all about, like an overview of the concept of online gambling and why you want to carry out the research. Discuss how it's played and the impacts of having a positive attitude towards online gambling. The demographic could be pocket money or allowances, age, sex, educational background of parents, occupation of parents, family size, and so on. Tell your readers how these demographic variables influence adolescents' attitudes towards online gambling.

Write a

statement of the problem

– what you have observed in young people, which has made them take to online gambling based on the demographic variables. Let your readers the influence of online gambling on adolescents' life, school, and behavior at home and outside the home. Write in clear terms why you were motivated to take up this research.

The

purpose of the study –

write both the general aim of the study and list the specific aims of the study based on the demographic variables you want to use.

Research questions /Research hypothesis

– You may use the two or choose one of the above. You should be able to raise Research questions or hypotheses to guide your study. For instance, "there is no significant influence of adolescent gender on their attitude towards online gambling", for the hypothesis. For research questions "does adolescent gender influence their attitude towards online gambling?

Significance of the study

– show how your research on demographic variables and adolescent attitudes to online gambling will be beneficial to students, parents, counselors, teachers, school administration, education policymakers, the government, and society at large.

Literature review

– you can start this segment by reviewing theories relates to your research and their implications on your research variables, explain the concept of online gambling, opinions, and assertion of other writers on each of the demographic variables related to your and finally give an empirical review of related works done on your research variables and end with a summary of the reviews.

Research methodology

– Tell your readers the research design you will adopt and why you have decided to use the design for your dissertation. Choose an area of study in which the research will be conducted and state the population of the study, the sample, and the techniques you will use to arrive at the sample of the study. If you are using a questionnaire as an instrument for data collection, you should give it a title, validate it and test for its reliability. Tell your readers how you will administer the instrument to your sample and the right research tool you will deploy to analyze the data you have gotten from the respondents to test the hypotheses or answer the research questions.

Discussion of findings

is done based on your results of the analysis. This may not feature in your proposal as it's in your main dissertation and also…

Conclusion and recommendations

are done based on the findings of the study. Recommendations should be made based on the findings of your study.

Be sure to include your

reference

at the end of your proposal, using the required or recommended referencing style(APA or MLA) as the case may be. We will help you with

how to write a proposal for dissertation examples

if you need one.
FAQ
How long should a dissertation proposal be?
It takes just 24 hours for you to get a dissertation proposal written when you make an order.
How do I get a good Researchable topic for my dissertation?
If you don't have a topic, do not worry, we can help you get one and also help you with the proposal writing as well in your area of study.
How do I write a good proposal for a dissertation?
Our writers are professionals, so we do our best in selecting the most experienced writer in your discipline to handle your proposal writing as we have the best writers on our team.
My subject is very specialized, can I get help?
We won't give you writers who are not a professional in your field! All our writers are professionals in their respective fields and they are not given tasks to write outside their jurisdiction or field. Be rest assured that we have specialized writers for all specialties.
Is this dissertation help online legal?
Yes, it's legal and there is no crime contacting a service to write your case study or thesis proposal because we won't give you a copied work or paraphrased essays from other people.
How unique and original will my dissertation proposal be?
We write original essays which are researched from the beginning to the end. We won't ask you for materials and we don't need them because we write from scratch. So if you have research work already you want us to continue, we will start from scratch. Again, we don't store clients' writing. So there will be no room for plagiarism. On the issue of plagiarism, we screen all writings by our writers before we deliver them to the clients to make sure it's original, error-free, and plagiarism-free.
Can I get a sample dissertation proposal?
Yes, it's easy. Just send us a message and we get you a sample dissertation proposal within a few minutes.
How cheap is this service?
For as cheap as $12, you can get your dissertation proposal written and delivered to you. All you need to do is choose a topic, send us your requirements and get your original paper on time.

Article was written by Taufiq Hasan A
Hi, I'm Hasan! Academic papers are a different breed of essays and to master them requires heavy skill. Being a person with this skill in writing journal papers, I will help you format your research paper by proofreading and editing the writing style and citation format. If required, you can also ask for improving the content of your paper. Additionally, if you feel you need help with writing a report submission or struggling to finish that one article with a hard deadline, I am just one click away! My experience in academia will surely come in handy for you.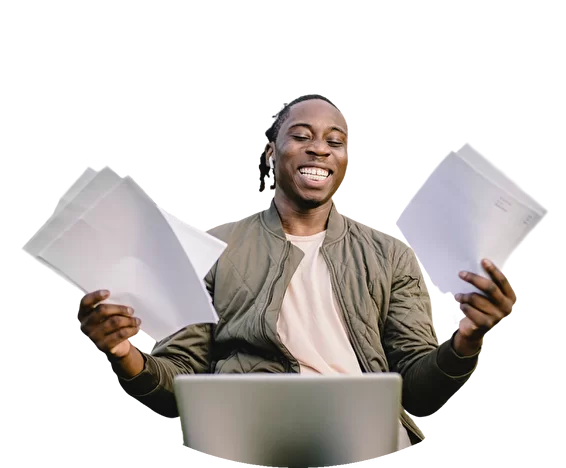 I've Got the Dissertation Proposal
In Just 3 Hours!