How to Write a Biography Essay
Writing about your personal experiences or someone else's experiences can be exciting. Biography essays allow you to explore the life of someone. So, you must be passionate about whoever you are writing about. Otherwise, your readers may not connect to your story.
What Is A Biography Essay?
A biography essay is similar to a narrative essay, but there are still many differences. Biography essays are essays in which you write about a person's life. It gives you a chance to find out intriguing information about someone through research.
That person could be a popular figure(living or dead), celebrity, politician, or artist, among other things. The purpose of a biographical essay is to show who that person was and what they brought to the world.
A few things to know concerning biography essays include:
A biography essay is written about another person. A biography essay where you write about yourself is called an 'Autobiography'.

They are different from narrative essays. Narrative essays talk about a limited experience, while biography essays try to summarize the history of a person.

They are highly researched and are based on real people, past or present.

Biography essays are fun to write, but you can't go wrong when working with a custom essay writing service.
Biography Essay Structure
Biography essays follow the standard 3-part essay structure. However, the various paragraphs will function quite differently compared to other essays. So, to write an excellent biography essay, you should follow a different process. Here are the step-by-step processes for writing a biography essay.
This stage is where you decide on who to write on. i.e. if it's going to a personal biography or someone else's biography. If it's going to be someone else, you should ensure that you can easily find information about this person you're interested in. Also, try to find a subject you are interested in, something you are passionate about. This way, you'll be motivated to keep writing.
Finding many facts about your subject will help you get a vivid picture of them. Through this, you'll be able to know where they were born, what they did in their lives including the most significant things they did.
Another advantage of doing research is that it'll give you an objective view of the subject:
When you read from various information sources, you will gain varying opinions about the subject. This way, you'll present your view in an unbiased way.

Different sources give different information, including dates, events and names, which will be crucial to your essay.
Create Your Essay Outline
A biography essay should have an introduction, a set of body paragraphs(typically three) and a concluding paragraph. The body paragraphs can be less or more depending on your preferences or your tutor's instructions. Creating an essay outline will help you arrange your points in a decent form.
Start Your Essay With An Introductory Paragraph
Starting the biography essay should follow the standard essay structure. It is critical to remember that a good essay must include an introduction, a thesis statement, body paragraphs, and a conclusion. It is also important to follow these steps accordingly, so your ideas and points will flow smoothly. The two main parts of your introductory paragraph include:
The Introduction is

meant to provide detailed information about your subject's background. Furthermore, the opening is intended to hook your audience and pique their interest in reading the rest of the paper. To write a great introduction, you should start with a quote about your subject, write an interesting story about them, or describe their accomplishment.

The Thesis Statement.

This is an idea or argument that serves as the foundation for the rest of the paper. It is worth noting that the statement appears in the introduction to show the readers your stance on the subject before they proceed to the rest of the essay.
You should place the information gathered during your research in the body paragraphs. Each body paragraph should lead back to the thesis statement. So, if your thesis statement is about a fact or accomplishment by your subject, then each body paragraph should link to some examples and experiences that led to the accomplishments.
The body section can be of three or more paragraphs, depending on the length of the paper. Paragraphs 1-3 may include the following if you write about a famous personality.
In the first paragraph, you may discuss the subject's birth history, childhood experiences and how they were raised. Also, highlight their educational experiences, from primary school to college.

In the second paragraph, you should include the subject's work history and other accomplishments. Also, explore the writer's interests and lifestyle. The subject's close friends, the subject's popular opinions and what other people thought about the subject.

In the third paragraph, emphasize the individual's contributions to society and demonstrate how their role has impacted the community. Also, you may highlight their death story here if they are no longer alive. Talk about the good and bad, the contradictory information about the author, so that you have a clear picture of your subject.
The conclusion is where you summarize the main points of your paper. Furthermore, the thesis statement is restated in the concluding paragraph to emphasize the main idea of the essay to your audience. But, If you want to end your article even better, you should show how the subject's role has affected people's lives. A good conclusion should address the following points:
The person's contribution in their field demonstrates the relevance of their work in modern times.

Demonstrate their legacy and how they are remembered, including the relevance of their achievements to date.

Highlight the types of people on whom they had a significant influence.
Knowing what to include in a biography is useful for producing an excellent paper. A unique biography essay shows uncommon facts about the subjects. Nobody wants to read old news, which is why research is crucial.
Biography Essay Writing Tips
Our writing experts have put together a list of useful tips that will help you craft the perfect essay. It is important to remember them when writing a bio essay:
Arrange events in the order of time
Even though it might seem obvious, you should always put the events in a biography essay in order of when they happened. In several cases, putting things in the wrong order can also work, but it's easier for readers to understand when things are in the right order.
Choose your areas of focus
In a biographical essay, you don't have to discuss every important thing that happened to the person. Before you begin your essay, you need to learn as much as you can about the person. Then, write down the events and experiences that had the most impact on their life and success. Leave out the less important facts.
When you write a biography essay, it's your job to look at the life of the person you're writing about from a neutral point of view and judge what they've done for the world. Even though it is normal to have your personal opinions about the subject, avoid being biased. Your readers don't want to see generalizations or your own opinions, especially if they're bad. You can do that in other types of writing. Professional writing is being neutral despite your emotions.
Ensure you check your essay for any grammar errors and mistakes. It Is also important to have a professional proofread your work before submitting it.
Examples Of Biography Essays
CAPT J. PROUDFOOT CROWLEY
Lt. Crowley was born in Cincinnati, Ohio, on 14 May 1971. He graduated from Air Academy High School in Colorado Springs, CO, in June 1989: and from the University of Colorado at Boulder with a Bachelor of Arts in Biochemistry in May 1993_ he remained at the University of Colorado to complete his Masters of Science degree in Environmental Engineering in May 1998.
After receiving his education: Lt. Crowley interned with a lobbyist group on Capitol Hill: supporting drinking water legislation. He later worked as a junior environmental consultant and project manager in Washington D _C_ and Denver, CO. His clients included the Environmental Protection Agency: Department of Energy: and the U_S. Army_ After receiving a direct commission in April 2002: Lt. Crowley came on active duty in June 2002 _ Following Commissioned Officer Training school, he attended the Bioenvironmental Engineering technical school at the School of Aerospace Medicine, Brooks AFB, Texas.
In November 2002: Lt. Crowley was assigned to the 89th Medical Group: Andrews AFB: Maryland. During his tenure: he served as OIC Industrial Hygiene: OIC Environmental and Readiness Programs: and Flight Operations Officer. he successfully directed AMC's largest environmental program and led a base tiger team for six months after lead was detected in the water at three daycare centers. A key Threat Working Group member: he put plume modeling tools at the crisis action team site and facilitated a DOD team with the installation of SSM NBC detection systems on base. His efforts were key to the squadron earning the AMC Team Aerospace award in 2004. In January 2005: he deployed to Sathish AB: Baghdad International Airport: Iraq and served as the Bioenvironmental Engineer for the 447th Air Expeditionary Group.
Lt. Crowley has been in his current position as Element Chief at Lakes Field since June 2005. He leads a six-person team and is the wing liaison for all occupational and environmental health programs. As Medical Defense Officer, Crowley manages and resources six WNID teams and is a vital 'Space Shuttle Response' team member. In October 2005: he handled the AF survival recovery center for EUCOM exercise: Operation FLEXIBLE RESPONSE. Lt. Crowley completed Squadron Officer School in correspondence in 2005.
Lt. Crowley is scheduled to deploy to Romania in April 2006 to conduct an initial environmental health site assessment survey. An active Air Force officer: Lt. Crowley is the Vice President of the CGO Council: tutors youth math and science, and participates in several community service programs. Among his many awards are distinguished graduates for Commissioned Officer Training and Bioenvironmental Engineering School: group CGO of the Quarter; squadron CGO of the Year. Air Mobility Command Bioenvironmental Engineer of the Year, 2004; and AF Commendation Medal.
GWEN PHIL, PUBLIC RELATIONS OFFICER
Gwen Phil, a native Detroiter, graduated from Cass Technical High School in 2003. Upon graduating, Phil began her undergraduate studies at Eastern Michigan University. As a freshman, she was undecided between declaring a major in Business Management or Criminal Justice. After one year of reevaluating her career goals, she changed her major from Business Management to Public Relations.
As she began understanding what Public Relations stood for, Phil discovered her passion for event planning through relevant coursework. Her ability to lead and work well with groups prepared her for the many projects requiring group involvement and effective communication skills.
With these skills and the confidence to interact and accomplish goals,
Phil ventured into the promotion and marketing field.
After obtaining a position at Red Bull USA as a Wings Team member, Phil improved her skills by accepting a position with Media Star Promotion as a spokesmodel for top brand tobacco products. With just seven months in the field, she was awarded the Spokes Model of the month after single-handedly creating venue relationships and opportunities for major tobacco brands' promotion market in the Ann Arbor and Ypsilanti areas.
Phil plans to further her education as a Graduate student at Eastern
Michigan University. Later pursuing my career at a Public Relations Firm as an Event Coordinator handling major events. Maintaining organization and planning the details of an event is what Phil sees herself executing in her five-year career plan.
Biography Essay Topics
There are a few limits when choosing a topic for your bio essay. You can write the biography of:
A family member and their legacy

A past president or political leader and their influences

Scientists and their inventions

Your childhood heroes
Conclusion
A biography essay is a summarized story about someone's life that is interesting and well-written. These articles may talk about well-known people, but you can write a biography about a person who is not famous as long as you have a good reason to tell their story. A biography has an introduction, body paragraphs, and an end, just like any other essay.
If you want to write a great biography, you should follow the tips from our experts at Essaybrother. As always, we will be there to assist you in any way you need.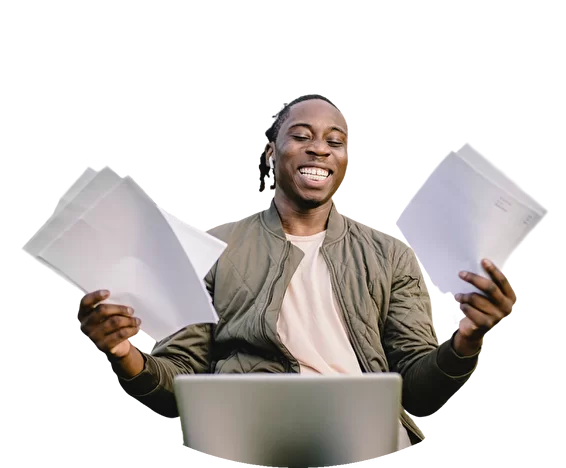 I've Got the Biography Essay
In Just 3 Hours!