How To Write a Term Paper
As a student, it seems you can't get enough of writing. From essays to literature reviews to reports and now, to term papers. It is hard, and we know it. This reason is why we have compiled some good practices to remember when writing your term paper.
A term paper is an academic piece of writing on a given topic that determines a large part of a student's grade. A term paper can take the format of a report or essay, and it may even be up to you, the student to decide your topic for the term paper. STEM courses and, Economics courses, will likely use a scientific format for their term papers, while courses in the Social sciences use a different approach, almost similar to a standard essay format.
If you need help with yor subjects you can order our term paper help!
Important Features of a Term Paper
A term paper prepares students for more professional life, and these are some key features of a term paper.
It is formal: A term paper doesn't use first-person pronouns. It is not an essay. It is highly formal because it is strictly for academia.

It is highly researched: The stakes are higher here so you must get your facts right. A good term paper shows and explains what is known and also gives room for what is yet to be discovered. This can only be achieved through focused research.

It is technical: When writing a term paper, you are not expected to drift off the topic. If you must, ensure it leads back to the thesis and gives a clear explanation. The term paper must also make use of the words, definitions, and terms that are specific to that paper. Terms and slang that are popular in other fields of study should not be used.

Length: There are no explicit length requirements when writing term papers; unless your instructor gives that. The typical term paper length is between 10-15 pages of double-spaced lines with relevant content.
What you should do before writing that Term Paper
At this point, you may be frightened at the number of rules you have to follow. Our team of professional term paper writers could easily take that assignment off your hands if you're too busy to do it yourself. There are some crucial steps to take even before putting your pen to paper(or fingers to keyboard) at all. Below are some important term paper guidelines:
First, you must decide on your

topic

. Most times, your instructor may give you a topic to write on. If that isn't the case, ensure you choose a topic that interests you in the course. Your topic should be something that you can write about exhaustively( there should be a lot of information to give the reader) so you don't end up repeating yourself or overextending the paper.

Research

your topic thoroughly by using credible and recent sources. Old sources may have been countered by more recent discoveries. Doing as much research as possible helps you explain the complex details to your readers simply and understandably. It also helps you argue about your position more strongly.

Choose a

position to discuss:

This is where your thesis comes in. Here, you may choose to agree or disagree with the methodology used or even the topic itself.

Now that you've chosen your thesis, you must come up with arguments that strengthen the thesis statement. Remember to make use of detailed examples to support your arguments such as evidence from experts in the field.
Follow all instructions carefully: Your instructor may have given you specific requirements to use for the term paper outline or the paper itself. If you were not given specific requirements, ensure to follow the standard term paper outline and organize your writing in the universally-recognized format.
NOTE! When you Buy Term Paper do not hesitate to ask your instructor for more information if you didn't understand any of the requirements.
Standard Term Paper Format
The format of a term paper is usually unique to the course you're writing on. The term paper structure is flexible, but there are some strict guidelines you must follow to get that all precious A+:
The Title Page

: This is the first and foremost page of your work. It contains your school name, the title of the paper, your name, your course registration number, the name of the teacher you will be submitting to, and the date of the assignment.

Dedication/Acknowledgement

: These are optional sections. Their purpose is to explain your motivation for writing on the topic and whatever help you received along the way(i.e from your lecturers or colleagues) that you want to specially recognize.

Table of Plates/Figures(Optional):

If diagrams were used in the course of your work, it is right to cite them (unless they are yours i.e plates) and number them in a list. This makes your work much cleaner and organized

Table of Contents

: This makes your work more professional. It makes it easier for the readers to navigate the sections of your paper. It generally includes headings, and subheadings, all numbered according to the pages they're found.

Abstract

: This does not need to be as long as the whole page. It summarizes all that will be discussed in the paper such as the thesis, methods, results, recommendations, and conclusion. You should only write this after your paper is finished.

Introduction:

This is where the real writing begins. Here, you tell the reader basic information about the topic being discussed. Ensure to state your thesis here. If your work is divided into chapters, ensure to give an introduction for each chapter.

Body sections

: This part of a term paper/college term paper will contain the various term paper headings and subheadings that you must have already decided. These headings and subheadings are what form the majority of the table of contents. This section may also contain the methods, results, and discussions/findings that were derived in the research process. But, it is optional and solely depends on the topic you're writing on.

Methodology:

This is where you will indicate what means you used in conducting your research(qualitative or quantitative). This is a section that is only necessary for a STEM or Economic subject. Liberal arts, History, and Humanities do not need this section.

Recommendation(optional)

: This section shows the limitations of your research and whatever suggestions you may have for future study.

Summary and Conclusion

: Usually the summary of the paper is contained in the conclusion. In the conclusion, everything discussed in the term paper is briefly summarized.

References:

All sources that have been cited or used in the paper should be listed in this section. The reference list should be in alphabetical order and should be indented(hanging).
Appendix(optional): Any additional information that will aid the reader's understanding is put in this section. This is usually used for information that may not be suitable for reading along with others.
NOTE: Term Papers may also have only an Introduction, Body, and Conclusion if it is not a scientific paper. The introduction introduces the thesis statement, the body contains the supporting evidence, and the conclusion is a restatement of the thesis and summary of the paper. The conclusion contains your opinion on the argument, suggestions, or predictions.
Citation Formatting in a Term Paper
Citation style is one of the most important aspects of academic writing. Plagiarism is an offense punishable by law. And, as a student, you must use a citation format of your choice to credit your sources. The major citation styles are:
MLA(Modern Language Association) Format:

This is one of the most popular forms used to credit sources. Currently, in its 9

th

edition, it is most commonly used in the liberal arts and humanities.

Here are some useful guidelines on the MLA style

APA(American Psychological Association) Format: Commonly used in the social sciences, it requires a little different information from the MLA format. There are unique techniques to use when referencing a book, journal, or online article. Here is a useful guideline to use for your references in APA format
Choosing your sources
Here are some useful facts to remember when selecting your research sources for your term paper outline.
Avoid using unreliable sources like blogs or hearsay. Your work should be based on professional sources like newsprint, magazines, statistical data, and publications. Also, ensure you choose credible authors. Avoid authors who have an infamous history. It is always advised to choose more recent sources when researching.

Ensure to cite your sources when you use another expert's idea to write your paper.

Don't choose a topic that is too wide, or beyond your scope. Ensure it is something you can adequately write on without having to chop out any parts.

Always back up your statements with supporting evidence from your research.

Ensure to proofread your paper after writing. You could show it to your friends and hear their thoughts. Ensure you run it through a grammar checker and a plagiarism checker. Don't submit your college term paper without doing these.
Samples of Term Papers
Here is a sample of a term paper from an academic writing service you can trust, beginning from the abstract.
ABSTRACT
This research work is in no doubt not exhaustive enough to account for the complexity of the Universe. Galaxies are crucial constituents of our universe and range in size, shape, and composition. They are composed of stars that are sparsely distributed within them due to their immense sizes. Although knowledge of cosmology and astronomy has far exceeded its erstwhile standpoints, there is still a lot to be discovered and this work is just a minuscule piece compared to the immensity that is the knowledge of the Universe…..
TABLE OF CONTENTS
Abstract
Table of Figures
Table of Contents
CHAPTER 1.0: INTRODUCTION
CHAPTER 2.0: TYPES OF GALAXIES
2.1: SPIRAL GALAXIES
2.1.1: THE MILKY WAY
2.2: ELLIPTICAL GALAXIES
CHAPTER 3.0:DISCUSSIONS
CHAPTER 4.0: SUMMARY
REFERENCES
….
….
….…
…..
….…
.
CHAPTER 1.0: INTRODUCTION
Today, in everyday life, distances and time can be easily compared from region to region or country to country. This is because, despite the various geographical borders, countries are all on one planet, Earth. With time, scientific discoveries showed that there was a lot more outside the confines of the Earth. Around the 16th Century, scientific observations were made by the likes of Nicolas Copernicus and Galileo Galilei who questioned the relationship between the Sun and the Earth. These observations were strengthened and grew into the general conception of the Solar System as we know it today…. These distances and sizes of celestial objects such as the Sun and the Nine Planets are incomparable to the size of a 'GALAXY'.
CHAPTER 2.0: TYPES OF GALAXIES: In science, naming takes cognizance. Although the true mechanisms and intricate processes of galaxies are not yet fully known, groupings are still possible. Through observations, scientists have been able to classify similar galaxies based on appearance. In 1926, Edwin Hubble invented the Hubble Sequence, a classification scheme for galaxies. The classifications based on morphology are as follows:
2.1 SPIRAL GALAXIES: Spiral galaxies are characterized by broad, flat, rotating disks of stars, gas, and dust. They have a central bulge containing older, redder stars. On some occasions, the bulge appears with a long, cylindrical, or rectangular bar…
CHAPTER 4.0: CONCLUSION
Galaxies are massive beyond human reasoning and operate on laws we do not fully understand. Nearly all large galaxies are thought to also contain supermassive black holes at their centers….
REFERENCES
Andrew Fraknoi, Foothill College David Morrison, National Aeronautics and Space Administration Sidney C. Wolff, National Optical Astronomy Observatories (Emeritus) Copyright Year: 2016 ISBN 13: 9781938168284
James Schombert Cosmology University of Oregon, 2008…..
We've talked about a lot so far. Surely, you've learned a thing or two that will help you in writing that college term paper. Hopefully, we've cured your fears. Academic writing must be precise, truthful, and technical. As a custom term paper writing service, we have assisted thousands of customers in completing essays in a variety of formats and disciplines for over 20 years; and we are chomping at the bit to help you get that perfect term paper written.

Article was written by Junaid B
Hi, I'm Junaid! I'm a tenacious and versatile writer who has been associated with content writing, technical writing, medical niche, proofreading and editing. I'm a struggling Pharmacist by profession gives me an edge to understand and write exceptionally well in Medical articles. Also I've a kick for technical writing too. I believe communication and understanding of your needs and interest are the primary key to getting to know the kind of work you want and with that being said I'm your guy. So hoping to hear from you soon.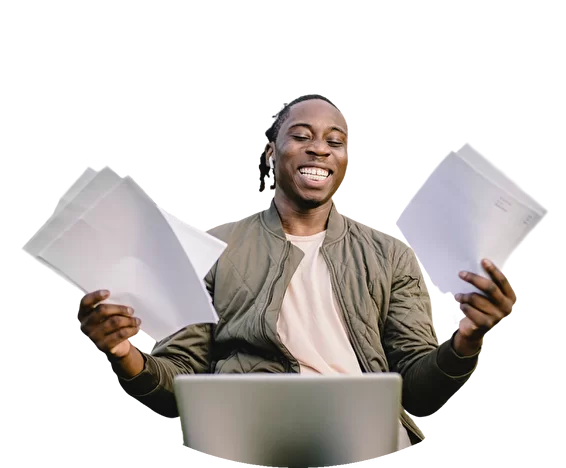 I've Got the Term Paper
In Just 3 Hours!