As a student, you can't escape writing essays. You just can't. But Hey! We know – essays are not easy to write. They are hard – but necessary. You may even have this paper to write at this moment. To help cope with the pressure, you need a buy college essays online to help you write the perfect essay.
Read also "Help me with my essay" to make your essay writing easier.
Definition of an Essay
So what exactly is an essay? An essay is a written piece intended to present an idea, make an argument, express emotion, or start a debate. It is the shortest piece of writing that is usually used to test students' analysis of various themes and topics.
This type of writing has a wide range of applications, such as political manifestos, art criticism, and the author's personal view and reflections.
Types of Essays
There are many different types of essay, but the four main kinds are argumentative, expository, narrative, and descriptive essays. However, there are also other types of works such as Compare and Contrast Essays, Persuasive essays, etc. Those papers may also be Academic (for school, coursework) or Literary(for an expression of art).
The Academic Essay
Academic essays are usually given to students as assignments or for exams. These papers require adequate preparation and analysis to earn you high marks. But, with deadlines breathing down on you, and unending assignments, a professional academic writing service is a valuable lifeline.
Structuring an Essay
An Essay without a structure is a waste of time and energy. Good essay structure or outline helps to guide you as the writer and help the reader understand easily. Most academic works can range from about 500 to 3000 words and they follow a similar structure. The first and last paragraphs are the introduction and conclusion respectively. The number of paragraphs in between depends on how many points you, as the writer, are bringing up. i.e three paragraphs represent three points.
Introduction: The point of the introduction is to tell the reader what your essay will be about. It must give some background on the problem or issue you're talking about and clearly explain what your answer is. Your answer may also be called your position, thesis, or main argument, depending on your level or school. It must be straight to point. An introductory paragraph may look like this.
Body: In the body of the essay, you fully explain your point of view. Each body paragraph should have one main idea or claim that is supported by relevant examples and evidence from the body of scholarly work on your topic (i.e. academic books and journal articles). Your argument is made up of the parts that make up the body paragraphs.
Conclusion: A conclusion aims to bring together the main ideas that were talked about in the body of the work. But a good ending does more than just that. You could think about what the topic means in a bigger picture, make some prediction, warning or even suggestions on how to deal with the issue, and end by talking about how important the issue.
Note: While all essays must include an introduction, body paragraphs that support the argumentative thesis statement, and a conclusion, academic essays can take several different approaches to a topic. The following are examples of common papers assigned in high school, college, and post-graduate classes:
Argumentative Essays
These works are frequently assigned to investigate a noteworthy issue. It aims to identify the major positions on either side and work to support the side with which the writer agrees while opposing potential arguments on the other side. These are the most common types of academic essays.
Compare and Contrast Essay
These essays try to identify similarities and differences while discussing each one's strengths and weaknesses. In such papers, two or more figures or items, such as two case studies, can be discussed. This work can cover more than two topics. The goal of this essay is to make the reader find new connections that may have not been considered before.
Expository Essay
When writing an expository essay, the student may be asked to research a topic, evaluate evidence and explain the idea. This result can be achieved by comparing and contrasting, defining, giving an example, figuring out what caused what, etc. The expository essay is mostly used for niche topics such as the medical field, but definitely isn't limited to it.
Definition Essay
As the name suggests, this essay serves only one purpose: to define a term or concept in as much detail as possible. Although it may seem straightforward, it is not the easiest task. Defining a single word or concept requires serious thinking. It requires looking at a particular concept from as many angles as possible and explaining them. Those perspectives and scopes will be reflected in the definition essay outline.
Descriptive Essays
These are a special kind of essays. They require the writer to describe a particular subject based on what the writer sees, hears, feels, tastes, or observes. These feelings are only felt by you; which makes it an interesting kind of essay. An example of a descriptive essay is to describe the new house that you and your family just moved into to someone who has never seen it before.
Illustration Essays
These essays require the writer to define and explain the topics sufficiently. The aim is to use clear and vocal examples to describe an idea, event, or concept. The illustration takes place in the body paragraphs section. Each of the statements in the essay must be supported by several examples. The illustration essay assists the author in connecting with his audience by breaking down barriers with real-life examples that are clear and relatable.
Informative Essays
The Informative Essay is one of the basic essay types, is as simple as it sounds. These are the kind of papers you read without knowing they are academic. Students usually encounter informative essays for the first time in high school. They are interesting and must keep the reader interested. The goal of this paper is to use proper research and a generous amount of storytelling to describe an idea or concept.
Narrative Essay
These types of essays are almost like fiction writing. They focus on describing a specific event or experience, usually in a sequence. It is a personal type of paper and does not call for the rules of argumentative writing. It could be a historic event or a regular day or month in the life of someone. Because the narrative type promotes a free approach to writing, it does not always need conventional features such as an outline. Here are a few tips in narrative essay writing:
It must follow the story structure if written as a story

i.e an introduction, plot, characters, setting, climax, and conclusion.
A story is not needed when you are writing a book report
The essay must have a purpose.

The purpose is the main reason you are telling the story at all. It must not waste the readers' time.
The essay should be written from a clear point of view.

Choose a point of view and stick to it.
You must use clear language throughout the essay

. Narrative essays are intended to move the readers in some way. Therefore, don't hesitate to use words or events that will make readers relate to the story.
Using first person pronoun 'I' is welcomed.

Although, it is permitted, it should not be abused.
Stick to an organized structure!
Persuasive Essay
The Persuasive essay is similar to the argumentative essay. But unlike the argument writing, it aims to force the readers into believing the writer's views. The paper must persuade the reader to adopt a particular viewpoint on a topic or idea. This type is distinguished by its use of strong, persuasive language.
Art Essays: The Essay in Art
Essays are not only used by students, but also by artists. Paintings, Sculptures, Photographs, etc all tell a particular story or communicate a thesis. Rough sketches of the final product are sometimes referred to as essays in the visual arts, such as painting or sculpting. Similarly, directors may choose to make a film essay, which is similar to a documentary in that it provides a personal reflection on a relevant issue. Finally, photographers frequently create photo/graphic essays, which are similar to narrative or descriptive essays in that they use a series of photographs to tell a story.
The Literature Essays
These works use literary devices to connect with the reader. They first gained popularity in the early 16th century, and their popularity has continued to this day, with both original and ghost writers. Many readers prefer this brief form in which the writer appears to address the reader directly, presenting a specific claim and working to defend it through a variety of means. Think you've never read one? You wouldn't believe how many works of literature are simply essays that have evolved into more complex structures from the essay. Check out these literary favorites:
A Room of One's Own by Virginia Woolf

James Baldwin's Notes of a Native Son

Susan Sontag's Against Interpretation

Barbara Kingsolver's High-Tide in Tucson: Essays from Now and Never

Joan Didion's Slouching Towards Bethlehem

David Sedaris's "Naked"

Henry David Thoreau's "Life in the Woods"
CONCLUSION
Now that you've learned about essays and their types, I'm sure your confidence has increased. As a professional custom writing service, we have assisted thousands of customers in completing papers in a variety of formats and disciplines for over 20 years. And we are chomping at the bit to help you get that perfect essay written.
Let's begin!

Article was written by Alexander P
Hi! I'm Alexander. I approach all the papers as if they were written for my own needs and grades. My essays are never simple paraphrases: I seek to make the theses original and theoretically grounded. I never use Copy-Paste from any sources and never rewrite other people's texts. I only agree to write an assignment when I am absolutely sure in my qualification in the topic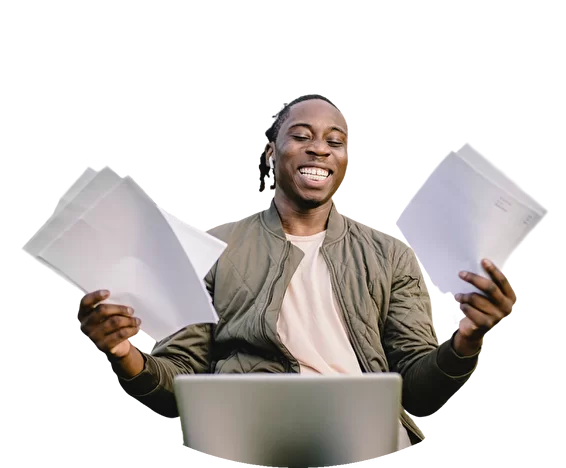 I've Got the Essay
In Just 3 Hours!