How to Write an Essay Introduction
If you've ever struggled with finding the right structure and choosing the right words for your essay introduction, then you're one of the millions of writers who share the same problem. Luckily, we've done the research and prepared for you a few easy steps for becoming a master in writing an essay introduction – so – make sure to read ahead.
Have you ever asked yourself – how to write a perfect essay introduction? The one you have might do the job, but is it really interesting enough to attract readers into investing more of their time in reading further? Well, we've done the research for you about the best way to write a captivating essay introduction.
In academic writing, an essay introduction should fulfill three crucial functions:
It serves as a hook to catch your readers' attention.

It elaborates on the main topic of the paper.

It draws connections between the main arguments of the paper and the paper's goals.
Development of a good essay introduction begins before you write even a single word – it starts in your head. Planning a good introduction is crucial because the usual length of an essay introduction for a five-page-long paper should be a paragraph or two at most. In other words, it should be around 10% of the total word count of the paper. For that reason, a good introduction must tell the reader enough to be captivating, yet be concise enough to contain only the relevant information. But many students buy college essay help from us.
Parts of a Perfect Essay Introduction
We've outlined the main functions of a good essay, and briefly described the technical aspects of each of the functions. However, in order to properly understand the craft of essay-writing, it's needed to deeper analyze each of these – so – in the next chapters that is what we're going to do.
Catching Your Readers' Attention with Essay Hook
As stated, the most important part of a good essay introduction is to catch your readers' attention. No matter how good the arguments are, or how strongly they're connected to one another, nobody would ever give a chance to read them if the introduction isn't interesting enough to catch their attention. That is why providing a good hook is the best way to start your essay. A hook is a sentence or a few sentences written with the goal of catching the readers' attention. A few commonly used strategies for developing a good hook are:
A shocking fact;

An anecdote;

A question;

A short summary;

A quote.
In the same manner, we could define some strategies that should be avoided:
Avoid using a dictionary definition – dictionary definitions could often be too stern and boring.

Avoid using a cliche as it could make the narrative seem frivolous.

Avoid using generalizations instead of short summaries – generalizations could often provide too much irrelevant info and badly affect readers' focus.

Avoid using generalizing statements that include words like "everywhere", "always", "all the time", etc.
Following these would ensure that your introduction keeps the reader engaged and eager to read further – and that's what we're aiming for when writing a good essay introduction.
Drawing Connections and Associations of the Main Topic of the Paper
Now that the hook is set up, paying attention to the structure of the essay introduction is the next step in our journey. It's important not to oversimplify the first few sentences after the hook, in such a manner that they seem too bland to keep a reader engaged. However, it's as important to avoid long, dragged explanations that lead nowhere, so, the best way is to structure these sentences as a bridge connecting the hook and the main point of the paper. If your hook was a question, for example, the next few sentences should explain how the main statement of the paper correlates to that question – it could either be an answer to it, extrapolate it further, or simply show that the question is impossible to answer or redundant.
This task is usually the most important part of the essay introduction because it connects the focal arguments of the paper with the goals that should be achieved or the facts that support those arguments. Let's see how it should be done in the following example: you're writing a paper with a focus on the psychosocial effects of hair loss on women in the US and you set up the following hook in form of a question:
Did you know that 40% of all hair loss sufferers in the US are women?
If you've followed our guide, by now you know that formulating a good main point of the essay is essential – we will use this one:
Known psychosocial effects of hair loss in females include depression, low self-esteem, altered self-image, and less frequent and enjoyable social engagement.
Now, we have to gradually build a connection between the hook and the main point of the essay in only a few sentences. For example, we could write that:
This issue takes no prisoners and is expanding rapidly, only boosted by the high levels of stress of modern life. Apart from being challenging to deal with on a daily basis, hair loss leaves devastating effects on women's mental health, social life, and emotional life.
These sentences are used for connecting the hook and the general topic of the paper which are stated above. Let's call them the bridge. You can notice that the first sentence of the bridge is used to provide some info on the question used as the hook, while the second sentence serves the purpose of introducing us to the main topic of the paper, while staying connected to the aforementioned hook.
If we add them together, this should be the final product:
Did you know that 40% of all hair loss sufferers in the US are women? This issue takes no prisoners and is expanding rapidly, only boosted by the high levels of stress of modern life. Apart from being challenging to deal with on a daily basis, hair loss leaves devastating effects on women's mental health, social life, and emotional life. In fact, known psychosocial effects of hair loss in females include depression, low self-esteem, altered self-image, and less frequent and enjoyable social engagement.
And now we have it – our craft is completed well. What's more, we also have some free space to add more sentences in order to explicate our thesis more precisely. Remember, since we've already made a switch from a general question – our hook – to a more precise and specific sentence that describes our main thesis, we should continue by refraining from writing any additional, major claims. Instead, the focus should be on defining the meaning of the technical terms, if there are any, and providing more specifics about the stated topic. That way, by the end of the introduction, a reader will be acquainted with the main thesis statement and all the technical aspects that would be needed for easier reading of the further paragraphs. We definitely don't want our readers wandering off to other websites to check out the meanings of the terms we use, or the arguments we extrapolate. By spoiling their attention in such a way, there's a high chance they will be lost in the sea of information while trying to understand what we want to say in our paper.
We can notice so far that writing a good essay introduction takes plenty of skill and practice and could go wrong in more than one way. Writers often struggle to formulate a good hook and connect it to the main point of the paper, while maintaining an optimal structure that keeps readers engaged. Luckily, we at Essay Brother can help you achieve your writing goals and teach you how to produce the best papers for any level of academic writing – so – if this sparks your interest, please check out our website and get acquainted with all the services we offer. There's definitely something for everyone.
Engaging Introductions for Different Types of Essays
We've analyzed all the main aspects of a good introduction and portrayed the practical use of our knowledge in the example above. However, in order to become true masters of essay introduction writing, we need to get familiarized with all the common types of essay introductions.
Introduction to the Narrative Essays
A Narrative essay is a type of writing that requires the writer to tell a story. Basically, simple storytelling is the main purpose of such papers, which makes this type of essay much different from others.
A narrative essay is a type of paper in which a writer tells a story. The main purpose of such a paper is simple storytelling that keeps a reader interested.
Usually, a hook of such writing is a sneak peek into a part of the story that is indirectly connected to the main statement of the thesis. Since the writing in such a paper is based on storytelling, every claim included in the introduction should in some way relate to the important moments in the story that have also had a significant impact on the story's outcome.
Analytical (Analysis type) Introduction
Analytical essays are, in contrast with narrative essays, aimed to break down an idea presented in the paper and educate readers about a certain topic. This is usually done by dissecting a complex notion into many simpler parts which are then analyzed separately and re-built into the argument.
These types of writings often require students to use verified, valuable information that is directly related to the main thesis of the paper, either by supporting it, denying it, or extrapolating on it. A hook is usually a rhetorical question or a fact whose main purpose is to serve as an opening clue about the main point of the paper. On the other hand, the bridge should usually include three critical pieces of information that gradually open the door for the introduction of the main thesis.
Persuasive Essays Introduction
The only purpose of a persuasive essay is to persuade readers into something, and there are several persuasive techniques that could be used to fulfill that purpose – the most common ones being ethos, pathos, and logos.
A statement serving the purpose of a hook of such a paper can be any of the ones stated in the first paragraph, humor, or any strategy that suits your preferences. However, a hook should always be formulated in such a way that it could also be used as a starting ground for further argumentation.
Writing a persuasive essay requires providing at least three supporting facts – therefore – a bridge of the introduction should always include brief outlines of each of the supporting facts, and gradually build up into the main topic of the paper.
Finally, the thesis statement should be the main argument that is going to be argued for, against, or extrapolated. The sentence defining the argument should always be well written and well-thought-out as it should summarize the main point of the paper and represent your point of view in the majority of cases.
Personal Essay Introduction
The last type of academic writing often faced by students is a personal essay. For this type of essay, an author is usually requested to reflect on their personal experiences and to share a story about the lessons those experiences taught him or her. For that reason, this is the most personal type of writing which makes it unique in its nature.
A hook can be anything that relates to the main story of the paper, either a relevant quote, question, joke, piece of information, or something of personal value – the choice is on the author and their preferences. A thesis statement should be a short outline of how certain experiences affected the author and the knowledge they acquired from those experiences. Finally, a bridge is usually formulated as a brief explanation of the background of the author's story.
Do you have a trouble with essay intros?
Our excellent writers will astonish your teacher with quality of paperwork
Always Revise
We've learned how to write a good essay introduction in a few easy steps, and are ready to embark on the journey of essay-writing. However, in order to articulate our ideas properly and turn the reading of our paper into smooth sailing, we need to properly fit each part of the essay with one another. In other words, we should learn how to revise and make sure that the outline of our essay introduction remains consistent with the rest of the essay. The introduction can be written either before or after writing the rest of the essay, but the general tips apply to both approaches. Since it's not uncommon to deviate from your outline, make sure that your introduction is in line with your completed essay once you're finished writing it whole by making every sentence count and removing any unnecessary parts. Revising several times is the key to success in writing the perfect essay introduction because it will allow you to analyze the structure of your paper from a relatively objective perspective. Although, if you still happen to have some issues, you could let one of our experienced writers help you with the essay help online or write an introduction for you.

Article was written by Alexander P
Hi! I'm Alexander. I approach all the papers as if they were written for my own needs and grades. My essays are never simple paraphrases: I seek to make the theses original and theoretically grounded. I never use Copy-Paste from any sources and never rewrite other people's texts. I only agree to write an assignment when I am absolutely sure in my qualification in the topic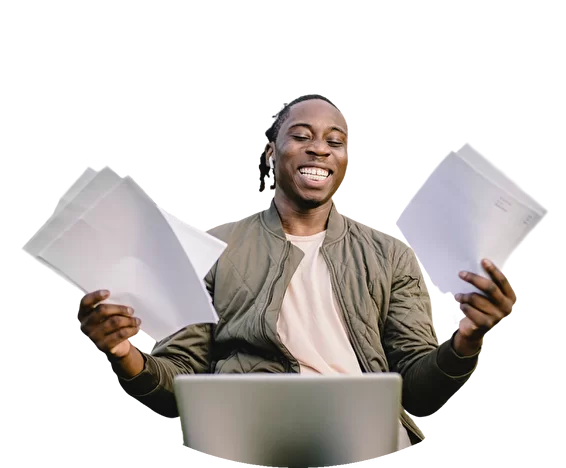 I've Got the Essay
In Just 3 Days!