How To Write An Editorial
An editorial essay is a newspaper article reflecting the opinions and views of an author based on factual evidence. Besides professionals who write for well-known newspapers, students also write editorials for their school newspapers.
As the first step of writing an editorial, you need to know the ins and outs of this article type and what differentiates a normal editorial article from an excellent one. This complete guide will allow you to understand what the characteristics of a well-written editorial should be to make it appealing to the readers. These are the same instructions that the writers of EssayBrother follow to write editorials for you.
What is an Editorial?
An article that utilizes facts and evidence collected from meticulously conducted research and provides the readers with opinions of the writer based on his research is known as an editorial. It expresses the writer's views and thoughts on contemporary national and international issues.
However, expressing one's opinions does not mean that the writer can just write personal thoughts and comments in the editorial without any evidence to back him up. This is not an article for the writer to rant about an issue. Rather, the editorial writer must conduct meaningful research and explore the background before starting his article. The writer can then organize the editorial article by conveying his opinions and views that have been backed by the research and evidence. An editorial can easily be compared to a research paper considering the amount of effort necessary to find information for the article.
As mentioned, an editorial essay focuses on contemporary issues and the writer attempts to present a message describing the issue, criticizing, or praising it, and propose a solution if necessary. In this way, you can speak up for the common people suffering from various issues and suggests ways to solve them. You can also draw the attention of the government and urge them to solve the issue through your editorial. Hence, the main purpose of an editorial essay is to help the readers support the arguments that you have developed by carefully organizing facts and evidence.
Components of an Editorial Essay
An editorial essay typically has four components. These components may or may not be present in a single article depending on the issue that is being focused on.
The four components are detailed below.
Interpretation and Explanation:

After choosing a controversial or sensitive topic, you should explain how it has been covered by newspapers and reports.

Criticism:

Your focus in this section is to keep the readers' attention on the mentioned problem by critically analyzing actions, decisions, and certain situations. You should bring up both sides of the argument and critically analyze them. No solution is to be mentioned here because this portion of the article strictly focuses on making the reader understand the underlying problem by providing evidence and facts. You can also relate the issue with your personal experience and real-life examples so that the readers can find relevance in their own lives.

Persuasion:

After presenting all the facts and criticisms in your

editorial essay

, now you will provide a valid solution that is naturally derived from the evidence from your research. After learning about the issue in the previous paragraph, the readers will look for a solution in their minds and you will provide it to them in this section. Your objective will be to persuade the readers to accept your side of the argument and also convince them to take positive actions that can solve the problem.

Praise:

In this section, you can commend the government, organization, or an individual who has taken the initiative in solving the issue that you have discussed thoroughly. Not all essays except those focusing on very recent issues can have this portion.
How to Write an Excellent Editorial
As an editorial writer, it will be your target to convince your readers that the opinion or solution that you are presenting based on factual evidence is the correct one in the current scenario. Because of the recent popularity of social media nowadays, it is quite difficult to identify the truth and harder to find a solution. It is like finding a needle in a haystack. This is where you come in with your strong editorial essay. Since you will not write on social media, you need to understand the difference between pointless ranting and writing with strong factual backup. In addition to having strong writing skills, the following steps should be followed if you want readers to be immersed in your article.
Pick an attention-grabbing topic:
This is the first and most crucial step because it is the topic that will attract your readers in the first place. The topic that you want to write about must be contemporary. Your article will not be read much if it is not relevant at present. Although crucial, it will not be difficult to do. You can just choose the recent issue that social media is busy with now and that needs solutions. Such a topic will be well-read than already resolved past issues. For example, during the COVID-19 pandemic, you should write editorial essays on various aspects of the pandemic rather than sharing your opinion on a political disturbance that occurred 15 years ago. Choosing a controversial topic is also another way to go.
Additionally, editorial essays can have topics on any subject as long as people are willing to read different points of view and think of any solutions that the issue may require. However, remember that the topic must be relevant in current situations.
Conduct research and collect evidence
Before writing your editorial essay, first, you need to research and collect facts about your chosen issue. It should be strictly followed that you look for credible sources for your information because you will design your article based on the information you collect. Additionally, having a reliable source backing up your words will make your essay more acceptable to your readers.
You must remember that you are not a journalist who seeks to gather the facts only. Rather, as an editorial writer, your job is to analyze all the evidence and facts and give your opinion based on your analyses. This is similar to the 'Results and Discussion' section of a research paper. According to the National Institutes of Health (NIH), an editorial essay is mainly about balancing all the sides and providing a fresh perspective that is backed up by factual evidence. It is also a reconciliatory piece between conflicting viewpoints. You can look it up here.
Express a Valid Opinion
After a thorough analysis of the facts from both sides of a recent issue, you will deliver a valid opinion. Your decision-making should be followed by well-researched reasonings. If you want your readers to be persuaded and convinced that your opinion is the right one, you must develop and express clear reasoning behind your viewpoint. This is also how the authors of EssayBrother write editorial articles.
Follow a writing outline and an article structure
After forming your opinions based on your research, you can now move on to finally writing your article. However, there is another step that you should think of before starting. You should decide on an outline of your whole article. You should decide beforehand which body paragraphs should contain the controversial topic and which one should have the logical reasoning. You should also think of where in your paragraph you will refute the opposite side and try to establish your viewpoints to the readers. A well-thought-out outline will influence your writing and it will improve the readability of your article.
Now, let's move on to the basic structure of an editorial essay. Generally, there are three structural paragraphs in an editorial:
Introduction
The beginning of your editorial should include a unique statement, a catchy line, or statistics that will attract the attention of the readers and increase their curiosity. Since the introduction is the first piece of paragraph that the readers read, it must make them feel intrigued to continue reading the rest of the article. The argument that is to be presented in this section is similar to a thesis statement.
Buy the way you can get the thesis writing help on our site.
Body
After introducing the issue to the readers, now you will introduce them to the detailed discussion that you have thought of. Be careful of any biases that may come in your way. Avoid them and objectively address the 4 W's and 1 H (who, what, when, where, and how).
A good way to start this section of your article is to mention your opposing view and any controversy to your own opinion. This will be followed by another paragraph where you will state facts and evidence that you have gathered through your research. Your objective will be to refute the opposing perspective with strong logic and reasoning and establish your own to the readers. Remember, your argument must be backed by strong factual evidence. Otherwise, your article will lose its credibility. However, you must not force your own opinion onto the readers. You will try to convince them subtly, but you cannot force it because that is not the purpose of an editorial essay.
A good way to increase the credibility of your article is to highlight the positive aspects of your opposing view too.
Finally, you need to provide a valid solution to the issue that you are highlighting. Your target should be to convince the readers of your solution that has been based on evidence.
Conclusion
After all the discussion and highlighting your solution, you will attempt to take the essay to the finish line in the conclusion paragraph. However, this one is not less important than the previous paragraphs. This portion brings a sense of closure to the readers. The NIH article previously mentioned has labeled this part as an aftertaste that should have a lasting effect. The readers should feel his/her thought to be stimulated and this paragraph will assist one to form his/her own opinion or solution regarding the issue. The readers should feel encouraged to apply the solution.
Lastly, you should make the readers want to read your article a second time and feel curious to read another article of yours. This can be accomplished by thought-provoking statements that you will provide in this paragraph.
By including all these structural components, you will finish writing your editorial. However, your work is not finished yet which brings us to the next and last step.
Proofreading the Essay
As a final step of writing your editorial, you must read the whole article after finishing and check for any mistakes. These include spelling mistakes, grammatical errors, and any other kinds of mistakes. These errors provide a bad look to the author, and they must be corrected. Hence, proofreading your essay to eradicate unwanted mistakes should be the final step of writing your editorial.
Editorial Essay Example
For your convenience, here are some recent examples of editorial essays from 'The Washington Post':
We have early warnings for hurricanes. We need one for pandemics

.

Consent is not enough. We need a new sexual ethic.

Disease took my brother. Our health-care system added to his ordeal.
Tips for Writing an Excellent Editorial
There is an average editorial and there is an excellent one. You need to know what separates the two. The writers of our custom essay writing service pay attention to the following tips when writing an editorial.
An attention-grabbing title:

The title is the very first thing that your readers will read when they find the article. It will make them click on your article's link and make them curious to know what lies ahead in your article. Hence, you should write a short but unique title for your editorial.

Keeping the length concise

: The length of the article should be between 600 to 800 words. A too-long essay can bore the readers and a too-short one cannot present the topic effectively. Hence, you should bear in mind to keep the article a concise size.

Refraining from getting too technical:

You should assume that the readers of your editorial are just ordinary people who are just looking forward to reading the newspaper and knowing about the recent news and events of the world. You cannot attract them with fancy words and technical language. Rather you should keep your article as simple as possible and it should be easy enough for the common people to understand.

Choosing a controversial topic:

If you are looking for a topic to write about, you should look no further than your surroundings and find the recent controversial events that have transpired recently. Such debatable topics will gather more readers because they are looking for opinions from different perspectives and you are going to give them that.

Sticking to your viewpoint:

If your writing is not convincing enough for the readers to side with you, then the whole target of writing the editorial in the first place will be in vain. Hence, you should stick to your opinion throughout the total essay and provide evidence in support of it. Do not send mixed signals that may make the readers confused.

Finding more than one solution: If you are dealing with a very common problem, then you can provide multiple solutions from your perspective if possible. This will also increase the credibility of your article to the readers.
Editorial Topics
If you are just starting to write an editorial, here are some interesting recent topics that you can choose from. Remember that the topic that you choose to write about can make or break your editorial writing career.
The COVID-19 Pandemic

Global Warming

Impact of Social Media
Conclusion
An editorial piece is a different kind of article that focuses on the opinions and views of the author that is based on facts. However, it does not suffocate the readers with a sea of evidence. Instead, the readers are faced with fresh perspectives that make them see the issue from a different point of view. It indirectly persuades the readers to think deeply about the recent incidents in the world and act for or against them. Finally, make sure that your article is plagiarism-free. There is no greater offense than to copy other writers and claim it as your own. For an original and research-based editorial essay, EssayBrother is always at your service.

Article was written by Lista Mn
Hi, I'm Lista! I am a spirit academic writer with almost 3 years of experience in the industry. In the time that I have been writing, I have acquired the skills to be a perfectionist. I have worked on many subjects but nursing, management, philosophy, English, Swahili, and computer science are my specialties. I guarantee a high-quality work devoid of grammatical mistakes and plagiarism. I'm keen to details and I can demonstrate a remarkable talent in organizing ideas and thoughts through writing to the client's satisfaction. I am dedicated to delivering accurate and desired content as per your requirements.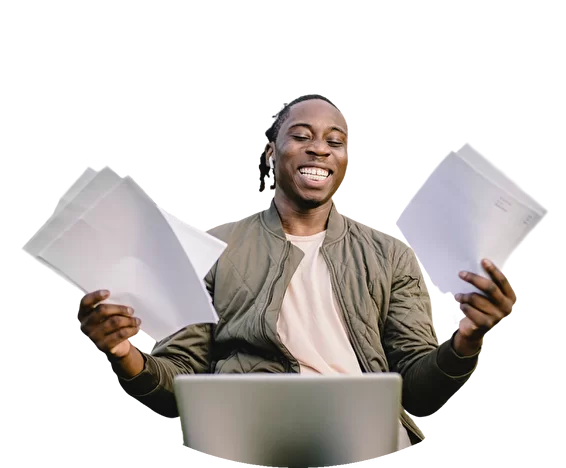 I've Got the Editorial
In Just 3 Hours!